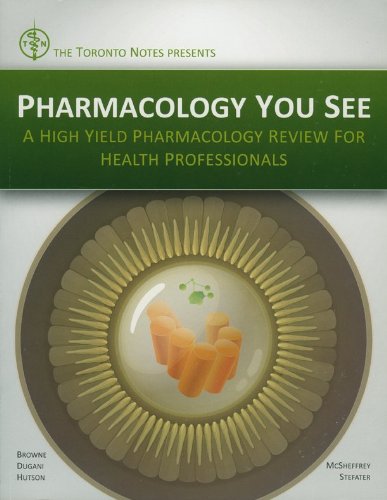 Pharmacology You See
Brought to you by
Toronto Notes
and
Essential Med Notes
A high yield pharmacology review for health professionals
Pharmacology You See is a study aide designed to assist students with exam preparation. Pharmacology You See integrates information on therapeutics and addresses pharmacological topics that students generally find challenging. This aide highlights the most high yield information for the purpose of exam writing and organizes it into a visual presentation with full-colour figures and adverse drug reaction icons.
Therapeutics are organized into the following chapters:
Pharmacology Basics
Antimicrobial Drugs
Cancer Chemotherapeutics
Cardiovascular Drugs
Central Nervous System Drugs
Endocrine Drugs
Gastrointestinal Drugs
Hematological Drugs
Immune Response Modifiers
Renal and Urological Drugs
Respiratory Drugs
Pharmacology You See is written by students in the Physician Scientist Training Program (PSTP) at the University of Cincinnati, USA and in the MD/PhD Program at the University of Toronto, Canada.